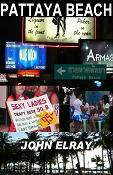 Pattaya Beach, by John Elray
ISBN 978-0-9707776-9-0
e-book, 242 pages


Fah, a twenty-two year-old farm girl from Thailand's rural northeast has moved to Pattaya City to do the one thing that has any hope of bringing her decent money – work in the sex trade. Her goal: land a well to do foreigner who can deliver her and her family from a subsistence life. Ed, a recent arrival from America, looks like he might just be the one. What Fah doesn't know, however, is that Ed is a deeply disturbed man who has traveled to Thailand to kill his nemesis, Bill (Fah's employer), in retaliation for an imagined betrayal. What Ed doesn't know is that he's about to fall in love – and that's when all the trouble begins. More... Buy now!