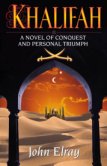 The greatest story never told.

A forced Muslim convert defies all odds to become the supreme ruler of an empire that stretches from Egypt to Persia in this drama which pits Arab against Arab during the Muslims' rise to power in the seventh century AD.

Through his memorable characters, John Elray exposes the inner workings of a movement whose conquests rivaled those of the Romans and whose influence on modern day life spans the globe. The author takes you on a captivating journey back in time, delving into the mystery of the people, places, and customs of Islam in this true-to-life tale of passion and deceit. A timeless story which will thrill and entertain you.

Mu'awiya is the son of the most vehement foe of the Prophet Muhammad. Amid the treachery, war, and political intrigue that follow the Prophet's death, Mu'awiya embarks on a thirty year odyssey to redeem his family's name and realize his ambition to be a leader in the new order. His modest hopes for a governorship soon seem unattainable, hampered by the lurking hatred of a former enemy determined to resurrect age-old blood feuds. Mu'awiya's fortunes take an unexpected upturn when he falls in love with a beautiful young Bedouin woman, captured as a slave and later freed, and marries her against his father's will. But in the turmoil of Islam's infancy, assassination of the Khalifah triggers a gripping onrush of events which catapult Mu'awiya into a battle against the heirs of the Prophet for control of the fledgling empire.

Read a sample chapter! (Requires Adobe Acrobat Reader to read)
Buy now!