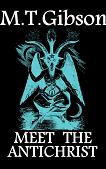 Freelance journalist Melynie T. Gibson outs the living Antichrist in this satirical bio/memoir that will have you riveted to the page, and in stitches, from start to finish.

The author's arm's length relationship with the spawn of Satan, Maas Reredef, enables her to expose the inner workings of a villain who would rule the world, enslave the soul of mankind, and usher in the End Times. Must reading for Believers and cynics alike.


Read a sample chapter! (Requires Adobe Acrobat Reader to read)
Buy now!