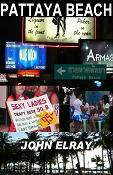 Fah, a twenty-two year-old farm girl from Thailand's rural northeast has moved to Pattaya City to do the one thing that has any hope of bringing her decent money – work in the sex trade. Her goal: land a well to do foreigner who can deliver her and her family from a subsistence life. Ed, a recent arrival from America, looks like he might just be the one. What Fah doesn't know, however, is that Ed is a deeply disturbed man who has traveled to Thailand to kill his nemesis, Bill (Fah's employer), in retaliation for an imagined betrayal. What Ed doesn't know is that he's about to fall in love – and that's when all the trouble begins.

Whether you're a seasoned traveler to the Land of Smiles or a neophyte, you'll be totally absorbed in John Elray's latest novel, Pattaya Beach. Based on a true story, Pattaya Beach exposes the grit beneath the veneer of the fun capital of the world, and delves into the psyches of its cast of inimitable characters in this compelling novel that you won't want to put down. The author guides you along the broad arc of Fah and Ed's engaging odyssey to convey invaluable insight into the people, passions and perils of Thailand – a land of pleasure unmatched anywhere else on earth.


Read a sample chapter! (Requires Adobe Acrobat Reader to read)
Buy now!