Current title: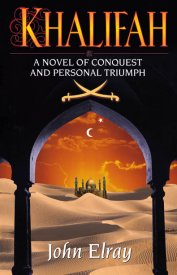 Click to see more

"John Elray's riveting historical novel, Khalifah, is a compelling fable of star-crossed love, clashing faith, and the rise and fall of empires. A powerful, fascinating story - superbly written, totally engaging from start to finish, and enthusiastically recommended."
-Paul T. Vogel, Midwest Book Review/Reviewer's Bookwatch
"Elray employs magnificent imagery to depict the brutality of war and the harsh realities of desert life. Khalifah sweeps you across a landscape as unforgiving as those who vie to control it."
-Eileen O'Donnell, Philadelphia Inquirer
"The action begins on the first page and never stops. Khalifah is a very well written story, with colorful characters, a well developed plot, and wildfire action that will keep you glued to the page way past bedtime."
-Beverly J. Rowe, MyShelf.Com