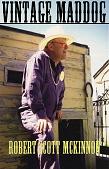 Maddog McDermutt, the world's greatest retired-to-the-pen Greyhound trainer, first appeared on the pages of The Greyhound Review many years ago. Maddog offered its readers all kinds of advice on a regular basis and provided them a steady diet of satirical short stories that continue to be sought after to this day. True to form, Vintage Maddog presents sixteen of the best of these classic and irreverent adventures as told by the master himself from the heyday of Greyhound racing.

Robert Scott McKinnon claims that his alter ego, Maddog McDermutt, is not the Daymon Runyon of dog racing but rather that Daymon Runyon is the Maddog McDermutt of horse racing. Vintage Maddog is a must read for anybody who has ever been to a dog track, adopted or stopped to pet an adopted Greyhound, and dog lovers in general. If you like racing, of any kind, or appreciate humanity's best friend, you'll love these sixteen off-the-wall gems.


Read a sample chapter! (Requires Adobe Acrobat Reader to read)
Buy now!