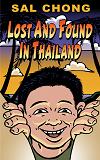 Sal Chong is in a world of hurt living with his future ex-wife in San Jose California. His life is in a rut and he's desperate for a change. He discovers that his friends Tyrone, Veejay and Kato are planning a junket to Thailand and finagles himself an invitation to what will be a landmark and life-changing journey.

Thailand is a wonder to the many foreign men (and a consternation to the foreign women) who touch down on Thai soil for the first time – but all is not as it seems at first glance. In Lost and Found in Thailand, author Sal Chong gives a crash course on how to negotiate the sensual landscape of the Land of Smiles, relating his own amazing experiences with the most beautiful Thai women, close calls with equally beautiful but deceptive ladyboys, and tips on how to make the best of a good time. Throughout this book, the author chronicles the events, people and places that he discovers, guiding the reader along the broad arc of his twenty year odyssey to convey valuable insight to both novice and veteran travelers alike.


Read a sample chapter! (Requires Adobe Acrobat Reader to read)
Buy now!